We Offer the Latest Advancements in Dentistry!

At Chino Hills Dentistry, Dr. Randy Agnew and our team of dental professionals are dedicated to providing the best in patient care. Our commitment to ongoing education and investing in state-of-the-art equipment and technology allows us to perform more dental services for our patients in-house for more efficient, more personalized treatment. We proudly offer bridges and crowns that do not contain metal—just one such advancement we have available.
Schedule a consultation with Dr. Agnew and the team! Call (909) 364-8282 now.
What Are Crowns & Bridges?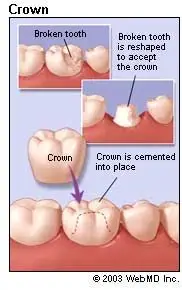 A dental crown—sometimes referred to as a cap—effectively encases a weak or damaged tooth to restore strength, enhance shape or size, and offer protection. These prosthetics can also be used to cover an implant or to anchor a dental bridge. Crowns may be placed to improve aesthetics, function, or both.
A dental crown may be used to protect a weak, decaying, or cracked tooth or to restore a tooth that has suffered significant wear. It can also be used to support a tooth that is mostly filling and not much natural enamel, to hold a dental bridge in place, or to cover an implant.
Dental bridges are so named because they quite literally bridge a gap between missing teeth, whether it's one or several. A bridge is made up of a false tooth or teeth to fill in the gap, along with a crown on either end, called abutment teeth, to anchor the bridge in place.
Metal-Free Crowns & Bridges
Recent advances in dental materials have significantly reduced the need to use crowns and bridges containing metal. Alternative materials, such as zirconium oxide and stronger porcelains, provide a much more natural look. These materials also eliminate the dreaded "black line," which happens when a crown containing metal meets the tooth, if the gum recedes over the ensuing years. The alternative materials we use are inert, meaning they won't react with your body's natural chemistry. They are also friendlier to the gums on a biological level and offer a better, tighter fit, thanks to newer manufacturing processes and technology, such as computer-aided (CAD-CAM) milling. The strength of crowns and bridges has improved so much that we're even able to use them on people who grind their teeth as an alternative to old-fashioned gold crowns.
Learn more about these crowns and bridges and all of our dental services in Chino Hills when you call Chino Hills Dentistry at (909) 364-8282 today!